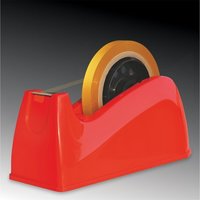 Elegant Tape Dispenser Big
Product Description
Tape Dispenser Big

Elegant Tape Dispenser that we are providing is a sturdy and rugged tool that is used for the effortless dispensing of the tapes. It is a premium quality product that is used in industrial and commercial applications. One can effortlessly dispense the tape as per their requirement using this tool. It comes with a sturdily mounted saw-like blade that is responsible to cut the tape in a fraction of second. Having top-notch surface finish and high build quality, this dispenser is widely demanded in the market. Therefore, to meet the diverse demands for the Elegant Tape Dispenser, we have made available it in a plethora of sizes and designs.
Uses the high quality ABS material

Core 1 & 3 for two different product.

Steel Rod for wheel balance.

Sharpe Edge Stainless Steel Blade.